Sunday: Tonbridge to Ashdown Forest
I got off the train at Tonbridge, and was immediately struck by the relative cold compared with both home and London. It was also trying to rain, but thankfully without much success.  I'd planned this walk to fit nicely in a period of forecast dry weather and really didn't fancy another couple of days sloshing through endless mud.
I made my way along the main street to the river to rejoin the Wealdway. But before getting started on my progress towards Eastbourne a few minutes were invested in taking a look at Tonbridge Castle.
I left the town following the Medway westwards past the Sunday morning rugby training and in the company of the local canines out for some exercise. It was all a bit "edge of town park", and stayed so until I'd crossed the A21. A few fields and my stride shortened as the manicured paths ran out and bumpier terrain was encountered. But thankfully, not too squelchy. Indeed I was pleasantly surprised how firm some of the mud patches were.
I came shortly to Bidborough and a brief dalliance with civilisation. A detour into a rather posh looking housing estate to bag Bidborough Hill saw the odd situation of me walking up to a trig point that was no longer present, and then descending to the point that Social Hiking has the peak marked. 200m of road showing clearly the margin of error trying to relate latitude and longitude into coordinates on a two dimensional map grid. Some odd looks from locals whilst I was doing all of this.
I walked on down a hill to the church, and my first almost wrong turning. Already this walk had a bit of a feeling of being one which would be prone to navigational risks – even if just psychological now that I was on unfamiliar terrain. Modest Corner by Southborough Common threw up another such challenge, but I found myself on the right track anyway.
The route through Stockland Green and Speldhurst may have been largely road, but I still found myself having to look at my map more often than I'd hoped – so good had been the waymarking on the first section, that it had set a level of expectation that now looked like it wasn't going to be kept.
A pleasant wood and some farmland brought me to Fordcombe and the 9 mile point that I'd set as my target for lunch. Then a pleasant stroll along the edge of empty fields brought me to Stone Cross. In the distance ahead of me hills gradually came into sharper focus and gave me a very visual target to achieve – I planned to camp pretty much at the top of them.
I approached the point near the railway where the Wealdway and Sussex Border Path meet, and which was also the last logical point to cut the walk short. If I carried on, I was effectively committing to the whole of the rest of the walk and a night out in the wilds of Sussex.
Confusing signage marked the way across the fields alongside the tight meanders of the Medway. Apparently there was a diversion, but of what from where it wasn't at all apparent. The only effect of this was to sow seeds of doubt and keep me constantly stopping to look at the map across what was actually an easy to follow route.
I left the Medway for the last time, passed through Withyham, and was then clearly starting to approach the forest along a private track, the firmness of which so late in the day did nothing to ease tired feet.
I reached the start of the forest, skirted around the northern edge and then turned to walk up through the trees towards my day's destination. Over to my right there was a sudden disturbance and crashing through the forest and I looked across to catch a glimpse of deer doing their best to avoid me.
With an orange glow spreading over the lower part of the sky, I emerged from the wood onto heathland and a solid mass of gorse on either side of the track. I forged a way through a less dense patch hoping to find some decent patches of clear ground in between, as research on Geograph had suggested I might find. The best I found was a load of flattened dried grass surrounded by high gorse bushes, but with just enough gap for me to observe what was visible of the sunset. It was also reasonably well-shielded from any passers by. I plumped for this and made camp.
This felt like my most efficient camp routine ever. It seemed no sooner was the tent up than I was eating dinner. Obviously it helped having brought a lot less than I would on a normal multi-day walk, but psychologically using my recently acquired Alpkit Brukit helped too.  Minimal faff before I was tucking into a red thai curry and huge mug of steaming hot tea. This then left the problem of how to kill the remaining hours of darkness before it was worth turning in for the night. A 4G signal on my phone helped make this not too much of a problem.
Monday: Ashdown Forest to Uckfield
A still night devoid of the variety of wildlife sounds that I'd had on my previous Wealdway camp meant that I actually slept reasonably well. A new sleeping mat may have had something to do with this, along with the fact that my coffin tent clearly trapped warm air a lot more efficiently than the vast expanse of my Hexpeak.
Packing away the tent I noticed some damage – a sizeable tear in the foot end of the inner, a sign of both the restricted room and the cheapness of the tent. A light aircraft flew directly overhead as I was finishing up, and returned a few minutes later, giving the appearance that I was under surveillance. I got on my way through the barrier of gorse to rejoin the Wealdway.
As is standard after a night spent in unfamiliar country, it wasn't long before I spotted many better and easier to reach potential camp spots, albeit not as well shielded from the path. Which hadn't been a problem anyway as I'd not seen anyone since entering the wood.
I made my way gently uphill to the summit of Black Hill, the highest point in both the Weald and on the Wealdway itself. It's a shame there's nothing to mark this.
Just after crossing the road, I nearly went wrong courtesy of unclear waymarking which did a fine job of telling me I was on the Wealdway at a gate, just not at telling me which way to actually go next. This would become a bit of a recurring theme. I corrected myself quickly and was soon mounting Camp Hill, marked with a trig point, but not recorded as a hill of any special note.
Now things started to go wrong again. More little posts decorated with a stripe and "WW" on all four sides, but no actual indication of direction. With the paint fading on several of these, and them being quite low, it wasn't a surprise when I found myself on a track parallel to the one I actually wanted, having missed one of them.
I rejoined the Wealdway after this detour and soon found myself arriving on tarmac near Oldlands Hall. Here there was no sign at all telling me that I now had to turn right along the road. I only realised something was wrong a few hundred yards further on and retraced my steps. More lack of signage on the approach to Fairwarp saw the map employed, and even the gps, before I was more confidently walking through Furnace Wood.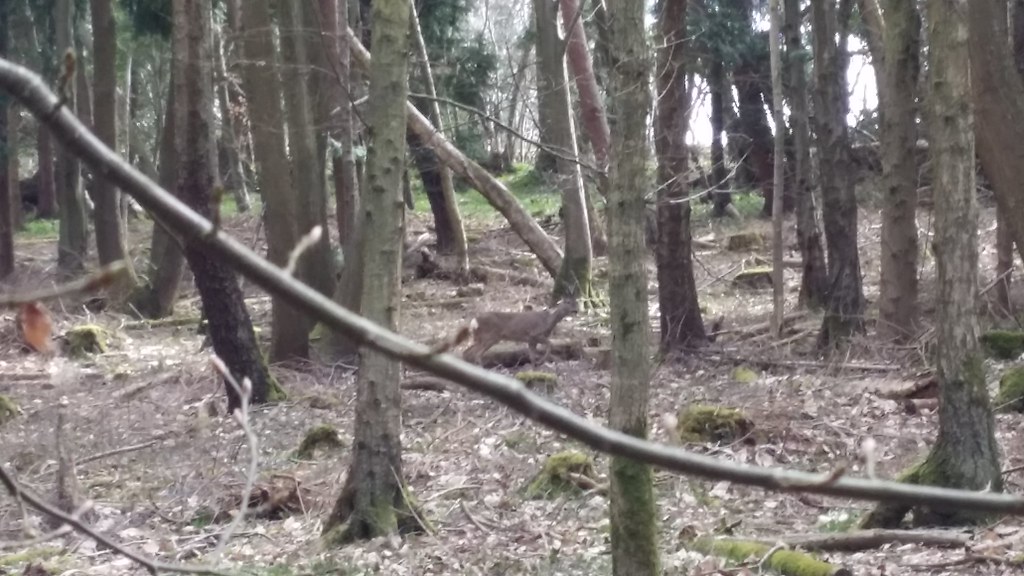 Here deer were trying to keep their distance from me once more. The wood was delightful though. At the top of the sloping wood, I negotiated some large boulders and emerged into the fields of a rather clinical-looking and well-manicured farm.
More fields took me to Hendall Wood and a wide expanse of long grass just the other side. This would have been a nice spot to camp too.
I crossed the A26, headed down a path next to a garage and was approaching Buxted, a pleasant walk through the grounds of the hotel there. Soon I was clearly on the outskirst of Uckfield, my entry to civilisation marked appropriately by more of the rugby pitches that had been my exit from Tonbridge at the start of the walk.
My timing was a bit off, and with trains only once an hour, I was about ten minutes from the station when one went past. So this gave me the opportunity to find some lunch, before heading home.
~~~~~~~~~~~~~~~~
The one thing I really noticed on this section was the quality of the ground underfoot – from sloshing about in mud last time, to very few dirty bits this time. This really affected my enjoyment (positively) of the walk. The highlight of this stretch was obviously Ashdown Forest.
I'm now 2/3 of the way through the Wealdway, in terms of the number of days of walking planned, but a little less in terms of total distance walked, as I've now got two tougher days to finish it off – 19 and 14 miles with the big ascent onto the South Downs – and less obvious places to plan my overnight camp. So that will be interesting.
This walk also doubled as my March sleepout – I'm not calling these microadventures like everyone else is, as some of my monthly sleepouts are part of much bigger trips, and my goal is principally the sleeping out part. All 3 of my monthly sleepouts so far have used different shelter systems too – but even with my surplus of tents etc, I'm not going to be able to keep that up for the rest of the year.